David Balcombe QC
David Balcombe combines specialist matrimonial finance work (including pre-nuptial agreements) with Chambers' mainstream clinical negligence and professional discipline work. His practice might be regarded as a curious mix. Regular appearances in the Family and Queen's Bench Divisions, as well as at the General Medical Council and General Dental Council enable him to bring a breadth of vision and experience not always available to the one topic specialist.
Aside from his advisory and advocacy work, David undertakes what might loosely be described as 'a variety of judicial or quasi judicial tasks'. He is an accredited arbitrator on the panel administered by the Institute of Family Law Arbitrators ("IFLA") and conducts arbitrations of family financial disputes. To provide "early neutral evaluation" in such disputes he also conducts private Financial Dispute Resolution hearings. He has been sitting as a Recorder in the Crown Court since 2000.
For further information on his litigation work as a barrister please click here for his Chambers CV.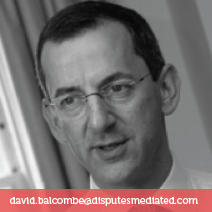 Primary areas of practice